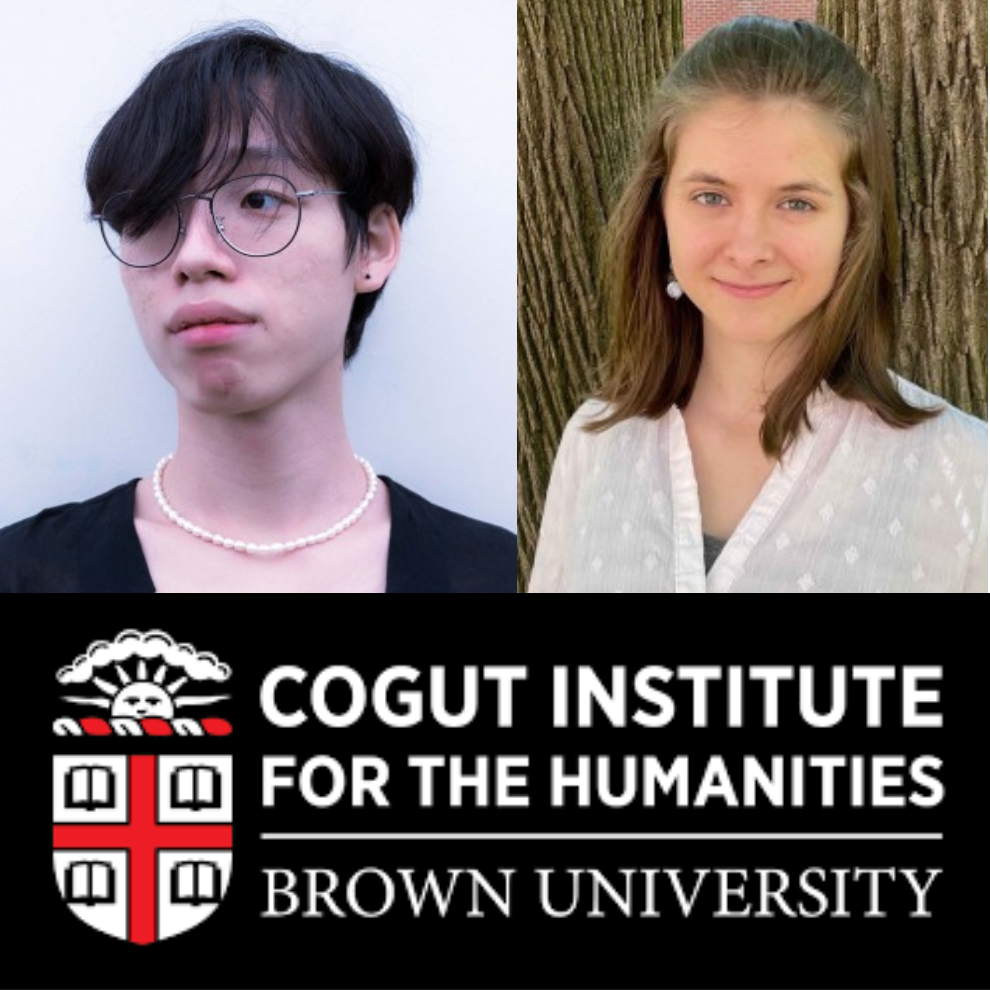 The Cogut Fellows for the 2022-2023 academic year have been announced, and two undergraduate members of the Comparative Literature Department were chosen.  Undergraduate concentrators Chong Jing Gan ('23) and Catherine Nelli ('23) have been awarded Cogut Institute Fellowships, along with MCM & Comp Lit Prof. Ariella Azoulay. 
Chong Jing is a Comp Lit concentrator focusing on English and Mandarin Chinese.  His project, tentatively entitled How an Island Stays Afloat: The Written Body/Land of Singapore in Diasporic Literature, examines "the pervasive anxiety of circumscribing "Singaporeanness" in the state's regulation and overdetermination of national identity, particularly in cultural and literary production, that has and continues to enact the violent erasure of peoples who are deemed unbelonging in the boundaries of the nation-state."  Chong Jing also finds enjoyment in visual art and film. 
Catherine Nelli is a Comp Lit, Classics Sanskrit, and International & Public Affairs concentrator.  Her research lies in the colonial French and English reception of classical Sanskrit texts, along with the indigenous reception of the texts.  With her project, entitled Investigating Indology: Divergences between Colonial French and English and Contemporary Sanskrit Reception of Classical Indian Texts, Catherine "hopes to investigate how colonialism has shaped the academic study of India by analyzing the convergences of European motivations and local intellectual traditions in this literary reception."  Catherine is also content director of the Brown Journal of Philosophy, Politics, and Economics, and has conducted other research on French, Sanskrit, and the indigenous language of Ecuador and Colombia, known as A'ingae.
Brown's Cogut Institute for the Humanities offers fellowships to members of the Brown community interested in presenting and discussing their research and works-in-progress.  The Undergrad Fellowship is offered annually to four rising senior honors students in the humanities or humanistic social sciences.  In addition to the outstanding collaborative research opportunities, the award offers a $1000 research fund and 1 credit for the academic year.
You can learn more about Catherine and Chong Jing, and their work on the Cogut Undergraduate Fellows webpage.  Join us in congratulating Chong Jing and Catherine on their awards, and wishing them luck with their respective projects throughout the academic year.